ROOM HIRE FOR MEETINGS & EVENTS
Looking for the perfect place to host your next meeting or event can be time-consuming and stressful. Worrying about the location, parking, whether the rooms have the latest tech for your presentations and more can, quite simply, do your head in!
This is particularly so when you're trying to cater for board meetings with executives that fly in from interstate. They need somewhere central, close to quality accommodation and not far from the airport. That's where The Consortium comes in.
OUR LOCATION
Your executives will only have a short, 15-minute taxi ride from the airport – and an even shorter ride to the Hilton or other CBD hotel.
What about the local attendees? 
The Consortium is located with plenty of free on-street parking options and long-term parking facilities under 150m away.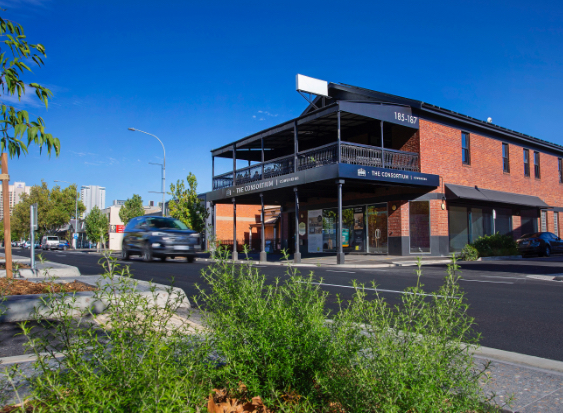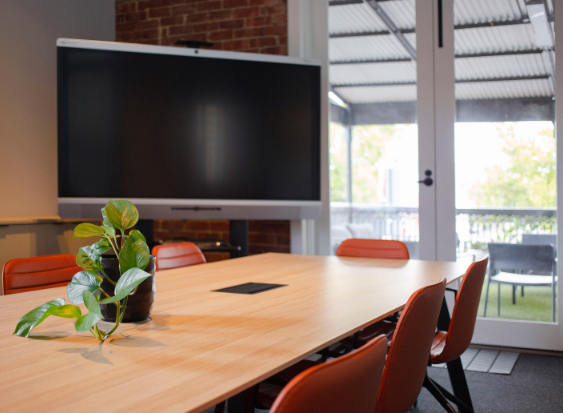 OUR FACILITIES
The meetings will run smoothly using our fully managed, state-of-the-art technology solutions so you can be sure that everyone will notice just how well the meeting has been organised.
We have everything from 10Gbps data network to smart board and video-teleconferencing facilities. If you have a specific connection that you'd like to make, if we're given warning, we can probably make it happen for you! 
OUR ROOMS
Organisation is one thing, but what about the rooms?
The common feedback about The Consortium is that it is a beautiful historic building full of charm that has been blended with the latest in technology. It's the best of both worlds and a place well worth considering for your next meeting or function.
From AGMS to board meetings, The Consortium has you covered as a short-term hire or meeting room venue that impresses your clients and engages your team members. All bookings under 15 include tea, coffee and biscotti provisions, and a concierge to welcome your guests, assist with tech and fulfill your beverage requests. If you require our short-term room hire on a monthly basis, we are happy to discuss corporate rates for your business. 
The Grand Boardroom // 14p
Level One, access via stairs.
 14 guests seated at boardroom table.
The Grand Boardroom overlooks our furnished and beautifully greened balcony. With an original fireplace and mirror giving a nod to the building's heritage, modernity is added with exposed brick, black ceilings and beautifully appointed furniture and fixtures.
This exquisite 36sqm private meeting room seats up to 14 guests and is finished with frosted glass doors for privacy. Complete with a TruTouch X8 Collaborative Touch Screen, you can use the on-board PC for video teleconferencing, display presentations via HDMI and workshop ideas with the smartboard. You are at liberty to *cater your event, or have us arrange catering on your behalf.
Pricing ex GST:
$250 for two hours
$350 half day (4 hours) + $100 for each additional hour
$650 full day
*Catered events attract a cleaning fee of $50.
The Boardroom & Balcony Package // 83p
Level One, access via stairs.
83 guests based on 3 persons per 4sqm standing.
What is more impressive than sunset views from the privacy of your own balcony in a leafy part of the CBD? The Consortium's weather-proofed balcony boasts lounge, dining and bar areas, totaling over 40 seats. A space for all seasons, the weatherproofed balcony gives way to a stunning city vista while your guests stay warm with our heaters, or cooled by ceiling fans.
The Grand Boardroom and Balcony Package is the perfect function room hire option for AGMs followed by networking drinks, corporate Christmas functions or pop-up cellar door events*. The 75sqm balcony is fitted with a user-friendly Wifi speaker system, an LG LCD screen, and lounge, dining and bar areas. Entertain with over 100sqm of furnished space, plus an adjoining kitchen complete with catering facilities. You may organise your own food and beverages or have us arrange catering on your behalf.
Pricing ex GST:
$450 for two hours, $100 for each additional hour
+ cleaning fee of $100
*Your function room hire may be subject to liquor licensing fees
The Grote Room // 8p
Ground floor, wheelchair accessible.
8 guests seated at low table.
The Grote Room is one of The Consortium's most visually enthralling spaces. Original timber floors and exposed brick meet floor-to-ceiling glass and expertly curated modern art. Sliding glass doors separate this meeting room from our café space, giving you vibrancy without compromising on noise levels and privacy.
Seating 8, our Grote Street-facing meeting room is flooded with natural light and is equipped with power point access for convenient charging. Whether it's for interviewing potential candidates, client meetings or team meetings, the Grote Room offers intimacy in an executive setting.
Pricing ex GST:
$250 half day
$400 full day
The Byron Space // 8p
Ground floor.
8 guests seated at high table.
Immerse yourself inside the core of The Consortium. An elegant high bar table sits you across from a sleek 4k screen, with exposed brick walls graced with modern artworks. This textural haven creates an environment ideal for stimulating brilliant ideas.
The Byron Space seats 8 at a high table within our ground floor breakout space. An atmospheric short-term room hire option for an off-site day, team meeting or presentation, the Byron Space is complete with an LG LCD screen with an accessible HDMI cord for presentations.
Pricing ex GST:
$300 half day
$500 full day
Executive Office Suite
Ground floor, wheelchair accessible.
The Consortium's community is a mosaic of the city's leaders across multiple specialties, achieving an ideal mix of corporate and creative. This is a place you want to do business, where you can establish and build upon your brand.
You can begin your tenancy with just one day per week, and eventually grow to fill one or more office suites full-time. Whether you need to grow or contract, The Consortium offers flexibility like no other executive office space.
Our ground floor has an abundance of natural light and access to premium facilities. This short-term office hire option is ideal for an office re-integrator, travelling workers or those wanting to test out The Consortium before they choose their long-term suite.
Pricing ex GST:
$80 per day, $230 for three days
Weekdays only
This error message is only visible to WordPress admins
Error: No connected account.
Please go to the Instagram Feed settings page to connect an account.